News
Results of Congregational Vote
All members and adherents of Monifieth Parish Church of Scotland were invited to take part in a congregational vote, this was conducted in accordance with "The Congregational Meetings on Sale or Disposal of Church Buildings Protocol (v1, [3 October] 2020)".
All returned ballot papers have now been collected and counted.
435 Ballots were returned. The Results are as follows: -
(1) I agree to the Registration of our new church building at 41 High Street, Monifieth, Dundee DDS 4AA as our primary place of worship.
| | | |
| --- | --- | --- |
| | Vote | |
| Yes | No | Abstain |
| 410 | 21 | 4 |
(2) I agree to the Kirk Session starting the process of selling the St Rule's building, Church Street, Monifieth DDS 4JP.
| | | |
| --- | --- | --- |
| | Vote | |
| Yes | No | Abstain |
| 395 | 37 | 3 |
The Kirk Session Monifieth Parish Church
---
---
---
When are we opening?
This is a fantastic video by our friends in Motherwell South Parish Church. Please take a couple of minutes to watch to understand some of the challenges around returning to our buildings.
The Kirk Session of MPC decided on Wednesday 1st July that we would not be re-entering our buildings before Sunday 16th August. Whether we even go back then depends on the prevailing circumstances and our ability to minimise the risks to everyone.
---
Masks!
MPC's intrepid sewers have been supporting the NHS and other keyworkers over the past few months. Now they are here to help you comply with Scotland's new requirements to wear face masks in shops and on public transport. You can get 3 masks for £10 by contacting Dorothy Culloch on (01382) 534844. Post-production profits will be donated to Monifieth Parish Church. Thank you.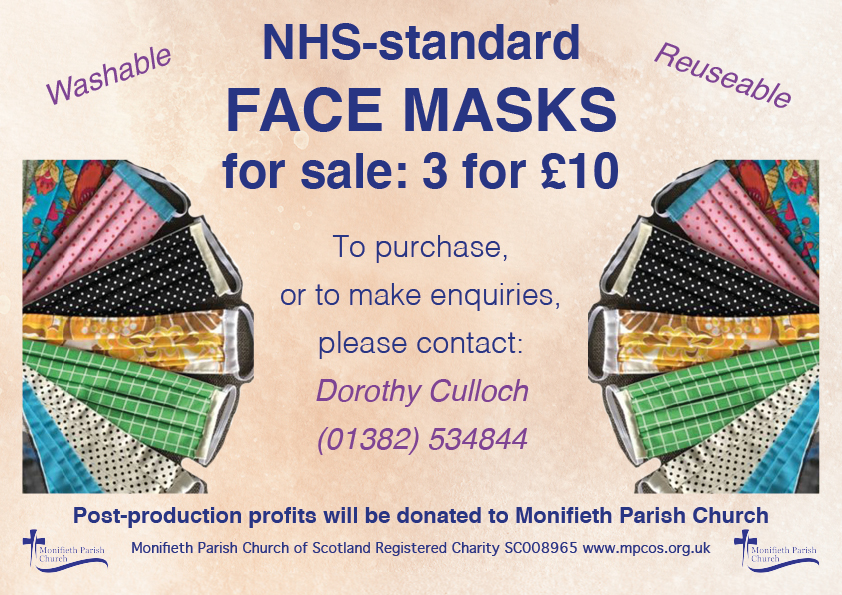 ---
The new norm is not the old norm with a different hat on.
"The new norm is not the old norm with a different hat on"
by Professor John Swinton (Aberdeen University)
Taken from the online zoominar "Theology in a time of Covid," held in May 2020 by Trinity College-Glasgow University
The full video can be found on Vimeo here
---
Sermon by Rt Rev Martin Fair
Sermon by the Rt Rev Martin Fair at his Installation as Moderator of the General Assembly Saturday 16th May 2020
---
---
IMPACt
The IMPACt Is Monifieth Parish Church's news letter. For the latest edition please click on the link below.
---